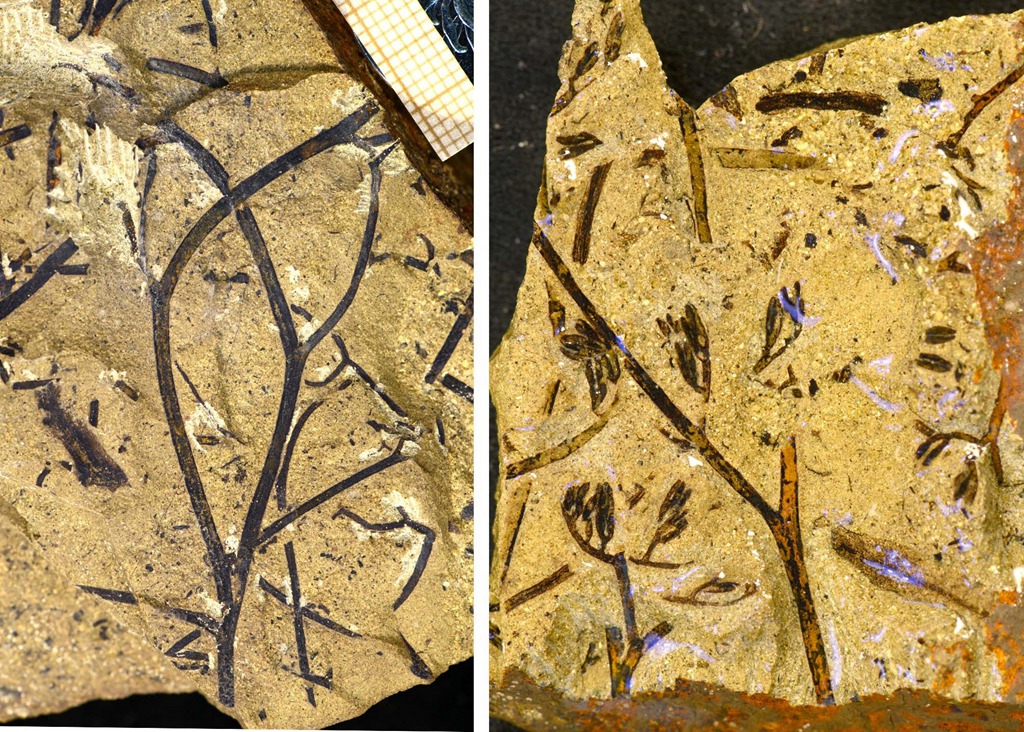 A diminutive euphyllophyte, Douaphyton levigata, from the Middle Devonian of Xinjiang, the vegetitave and fertile speicmens. The grid in the upper right corner of the left fig is 1 mm wide.
Devonian (420-360 Ma) witnessed a serial of dramatic landscape changes. A variety of land plants, including early ferns, lycopsids and zosterophylls, appeared in the lands of Devonian world. The first forest also occurred in the Devonian. The West Junggar, Xinjiang, China, with well-developed Devonian sequences and abundant plant fossils, has become a representative and significant area working on Middle Devonian flora.
Diminutive Devonian plants (axis width less than 2 mm), for a long time were neglected for the reason of small size and that it is hard to fine organic connected specimens of vegetative and fertile organ. As a result, few study was carried on diminutive Devonian plants, which, however, act as a significant group to study plant and flora evolution, diversity and palaeophytogergraphy.
Recently, a diminutive euphyllophyte, Douaphyton levigata gen. et sp. nov., is described from the upper Middle Devonian (Givetian) Hujiersite Formation of West Junggar, Xinjiang, China, by Prof. XU Honghe from Nanjing Institute of Geology and Palaeontology, Chinese Academy of Sciences and his collegues. The plant consists of more than three orders of axis branching, each axis being less than 2 mm wide. The second-order axes are short, laterally and alternately attached to the main axis. The third-order axes are paired and anisotomously divided, bearing the vegetative appendages or the fertile units. The fertile unit consists of a short recurved axis giving off up to four short pedicels along one side, each of which bears one to four pairs of terminal sporangia. The plant was named after the geologist Mr. DOU Yawei, who worked on geologic survey to Xinjiang in 1970-1980s. Douaphyton has a three-dimensional branching system that has an intermediate form in the evolutionary context of euphyllophytes and lignophytes. It is also proposed that complex branching developed in multiple groups in the Middle Devonian.
Reference: Xu, H.-H., Wang, Y., Tang, P., Wang, Y., 2017. A new diminutive euphyllophyte from the Middle Devonian of West Junggar, Xinjiang, China and its evolutionary implications. Alcheringa.