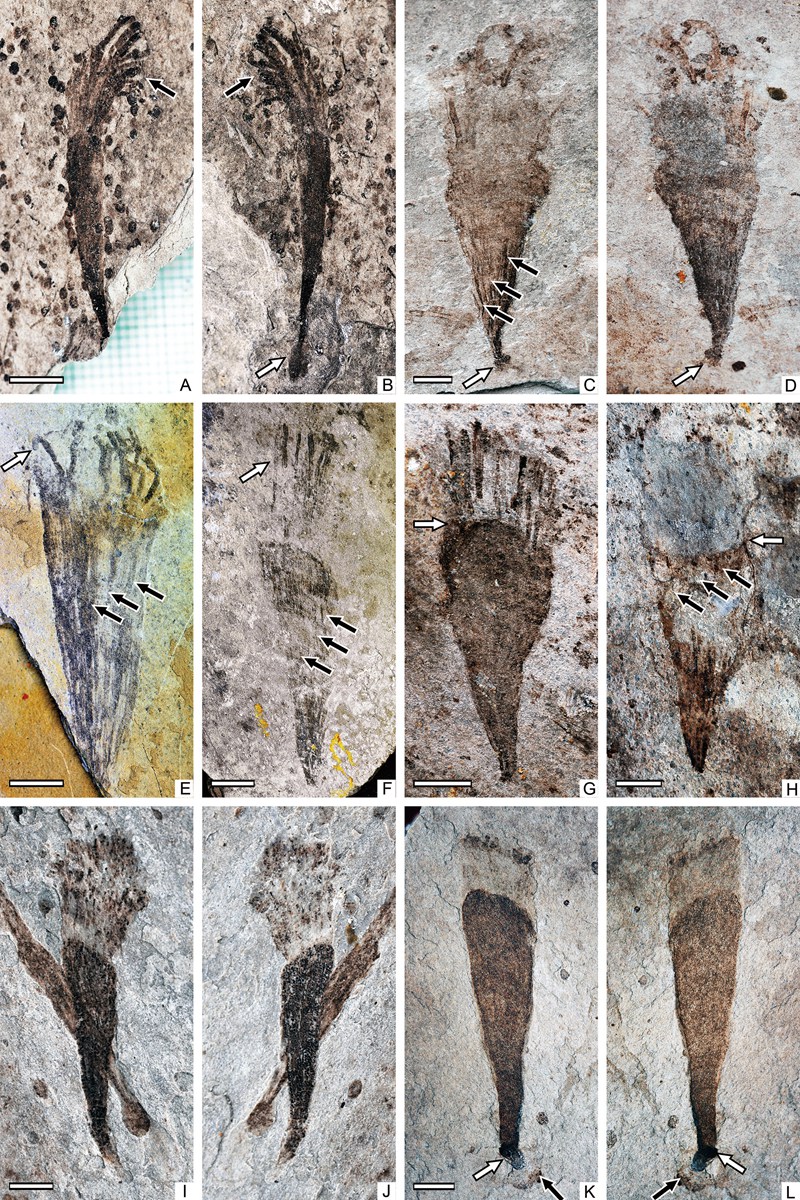 Lantianella laevis
The Ediacaran Period represents a critical transition in Earth system history and animal evolution. To analyse how animal life may have transformatively shaped the evolutionary trajectory of the Ediacaran Earth requires a thorough understanding of the Ediacaran fossil record. However, because virtually all Ediacaran candidate animals were soft-bodied, their palaeontological record is strongly contingent upon the interactions between a Goldilocks combination of taphonomic processes and degradation processes. Further, Ediacaran candidate animals were probably dominated by deep stem-group representatives of various modern clades. Thus, the phylogenetic interpretation of putative Ediacaran animal fossils is not straightforward; many of them have suggestive but not definitive characters for phylogenetic placement, presenting tantalizing but frustrating cases for animal affinities.
The currently available palaeontological data suggest that unambiguous Precambrian animals with macroscopic size occur only in the late Ediacaran Period. One potential exception is the Lantian biota, which occurs in the early Ediacaran Lantian Formation in South China and contains macroscopic (centimetre-sized) fossils of putative animal affinity. The macroalgal fossils have been described previously in several publications, but no taxonomic treatment has been published for the putative animal fossils. This hampers our ability to fully evaluate and communicate the significance of these potentially important Ediacaran macrofossils.
Recently, to address this deficiency, Dr. WAN Bin from Nanjing Institute of Geology and Palaeontology, Chinese Academy of Sciences and his colleagues carried out a comprehensive research and provided a systematic description of these putative animal fossils based on the base of previously accumulated fossils and newly field collection from the Lantian Formation.
According to the morphological features of these putative animal fossils, four new genera and five new species were erected: Lantianella laevis gen. et sp. nov., L. annularis gen. et sp. nov., Piyuania cyathiformis gen. et sp. nov., Qianchuania fusiformis gen. et sp. nov. and Xiuningella rara gen. et sp. nov.
These putative animal fossils are preserved as carbonaceous compression, with a complex morphological differentiations and inferred anatomical structures. Morphological and structural comparisons of these fossils and potential modern analogues indicate that they are different from microscopic algae and fungi, but intriguingly suggestive of an animal affinity. These animal interpretations are intriguing possibilities, but definitive evidence for an animal affinity is lacking. Regardless, the morphological complexity of these fossils offers important insights into the evolution of macroscopic and morphologically differentiated multicellular eukaryotes shortly after a global glaciation in the terminal Cryogenian Period and during a transition toward subtly more oxygenated oceans in the Ediacaran and Cambrian periods.
This research was supported by the National Natural Science Foundation of China, the Ministry of Science and Technology of China, Chinese Academy of Sciences, and State Key Laboratory of Palaeobiology and Stratigraphy (LPS).
The article was published and cited in: Bin Wan, Xunlai Yuan, Zhe Chen, Chengguo Guan, Ke Pang, Qing Tang and Xiao Shuhai. 2016. Systematic description of putative animal fossils from the early Ediacaran Lantian Formation of South China. Palaeontology, DOI: 10.1111/pala.12242