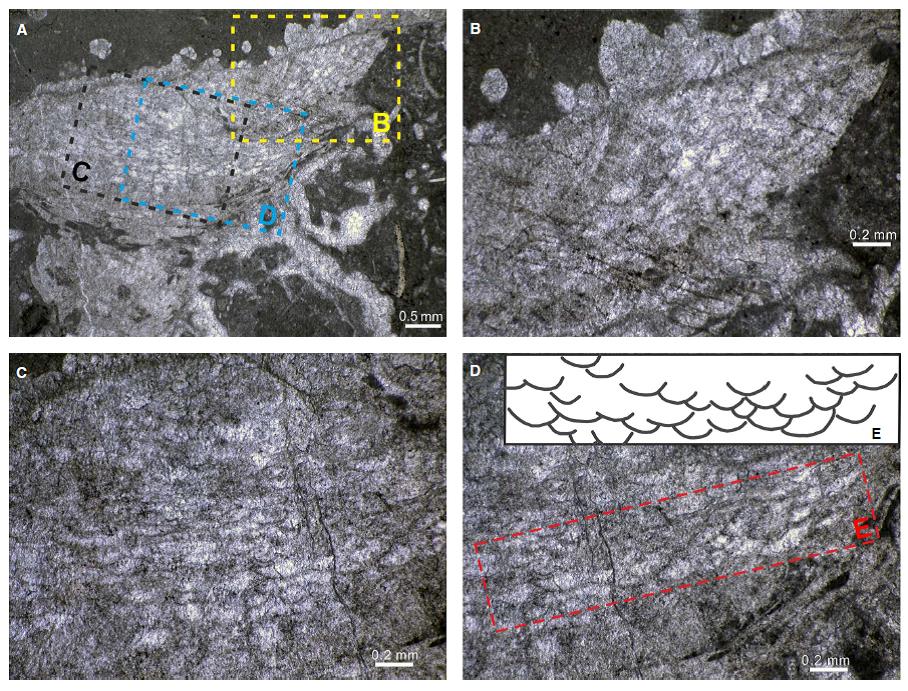 Photomicrographs of the labechiid stromatoporoid Cystostroma
Stromatoporoid-grade sponges are among the most prominent metazoan builders in mid-Palaeozoic reefs. There are several records of stromatoporoid-like skeletal fossils in the Cambrian. However, none of them appear to be stromatoporoids sensu stricto. Pulchrilamina, the earliest putative Ordovician stromatoporoid, appeared in late Tremadocian-Floian reefs, which is much earlier than the diversification of other stromatoporoids. Based on the updated studies of Pulchrilaminida, most authors regarded pulchrilaminids as a separate, independent group of hypercalcified sponges rather than true stromatoporoids. The earliest undoubted stromatoporoids are assigned to the order Labechiida, which were thought to have emerged in the late Middle Ordovician (mid-late Darriwilian) after which they underwent a rapid diversification.
Recently, Dr. LI Qijian from Nanjing Institute of Geology and Palaeontology, Chinese Academy of Sciences and his collegues reported the oldest known stromatoporoids (Cystostroma) and the cryptic keratose sponges in one of the lithistid sponge-Calathium reefs from the Lower Ordovician Hunghuayuan Formation at Zhangzhai (Guizhou, South China). This is also the first report of Ordovician labechiid stromatoporoids from South China.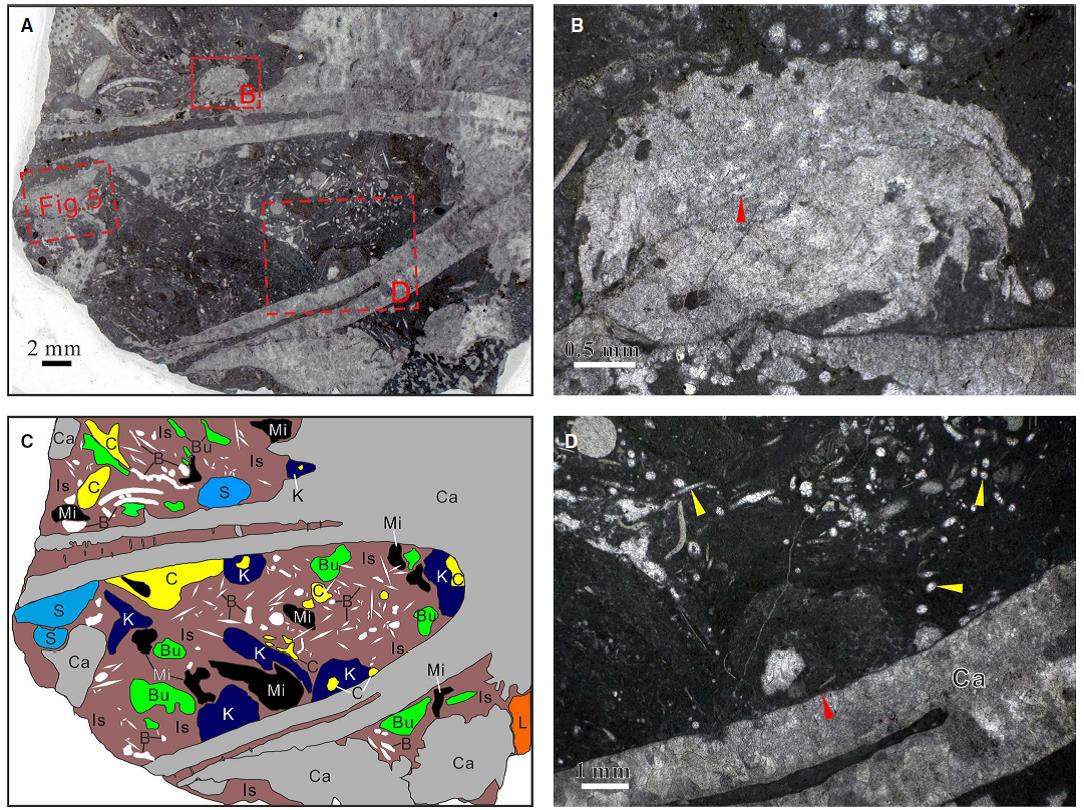 Thin section micrographs of Calathium and associated biota
These earliest stromatoporoids may have originated in reefs, which implies that the complex topography created by the hypercalcified sponge Calathium facilitated the emergence of stromatoporoids. Beyond Cystostroma, keratose sponges, Pulchrilamina (hypercalcified sponge) and bryozoans have also inhabited in the microhabitats (cavities and hard substrates) provided by Calathium. These findings suggest that ecosystem engineering by Calathium played an important role in the further diversification of reefs during the Ordovician.
The study entitled "The oldest labechiid stromatoporoids from intraskeletal crypts in lithistid sponge-Calathium reefs" has been published online in Lethaia, doi:
10.1111/let.12182
.