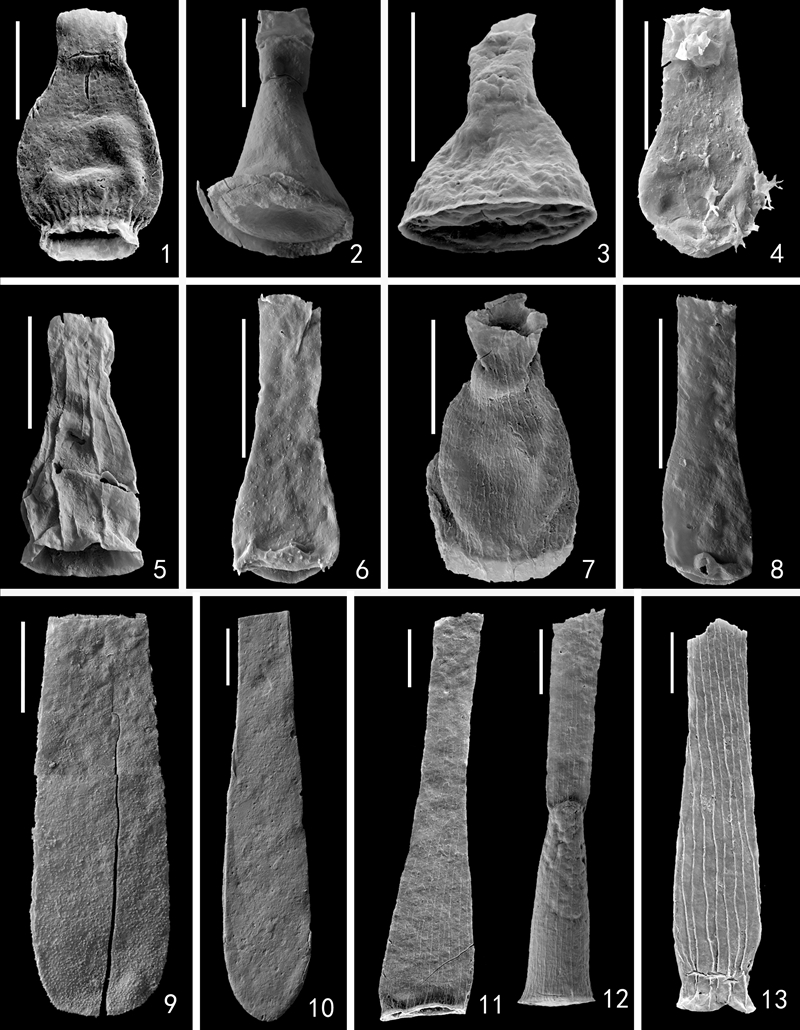 Lithology and chitinozoan stratigraphic ranges of the Middle–Upper Ordovician Miaopo Formation at Jieling, northern Yichang, western Hubei.
  As an extinct group of organic-walled, planktic microfossils, chitinozoan is characterized by its wide distribution and short temporal range of its species, which enables it to become an important tool in the stratigraphic correlation. The most significant chitinozoan acme appeared in the late Middle to early Late Ordovician in Baltica and North Gondwana. A relatively high diversity value also appeared during this time interval in Laurentia. However, chitinozoan biodiversity in the Yangtze Platform, as well as in China, was originally thought to be fairly low for this time interval in comparison with those of other major palaeoplates or terranes. And the chitinozoan biostratigraphic sequence for this time interval requires further work for regional and global correlations.
  During the last two years, Dr. LIANG Yan from Nanjing Institute of Geology and Palaeontology, Chinese Academy of Sciences and her colleagues described and analyzed a diverse and abundant chitinozoan assemblage from the Middle–Upper Ordovician Miaopo Formation at Jieling, Yichang area of South China. Forty-three species of 16 genera were identified, which substantially increases the chitinozoan diversity of this particular time interval of the South China palaeoplate.
Biostratigraphic subdivision and correlation of the Middle–Upper Ordovician in South China and Baltica.
  Several key chitinozoan species from North Gondwana and Baltica are reported for the first time in China. The chitinozoans of this formation have mixed North Gondwana and Baltica palaeogeographic affinities. The recognition of Laufeldochitina stentor and Armoricochitina granulifera guarantees a better biostratigraphic correlation between South China and Baltica. Most of the formation, except for its topmost part, is assigned to the L. stentor Biozone, which can be further subdivided into two subzones: the Cyathochitina megacalix sp. nov. Subzone (lower) and the A. granulifera Subzone (upper). Additionally, three new species are formally described, including C. megacalix sp. nov., Cyathochitina raricostata sp. nov. and Eisenackitina tenuis sp. nov.
  This research was funded by the National Natural Science Foundation of China, State Key Laboratory of Palaeobiology and Stratigraphy, Nanjing Institute of Geology and Palaeontology, Chinese Academy of Sciences. This paper is a contribution to the IGCP 653 (The Onset of the Great Ordovician Biodiversification Event).
  Article information: Yan Liang, Florentin Paris, Peng Tang. 2017. Middle–Late Ordovician chitinozoans from the Yichang area, South China. Review of Palaeobotany and Palynology 244, 26-42. Doi: 10.1016/j.revpalbo.2017.04.004.