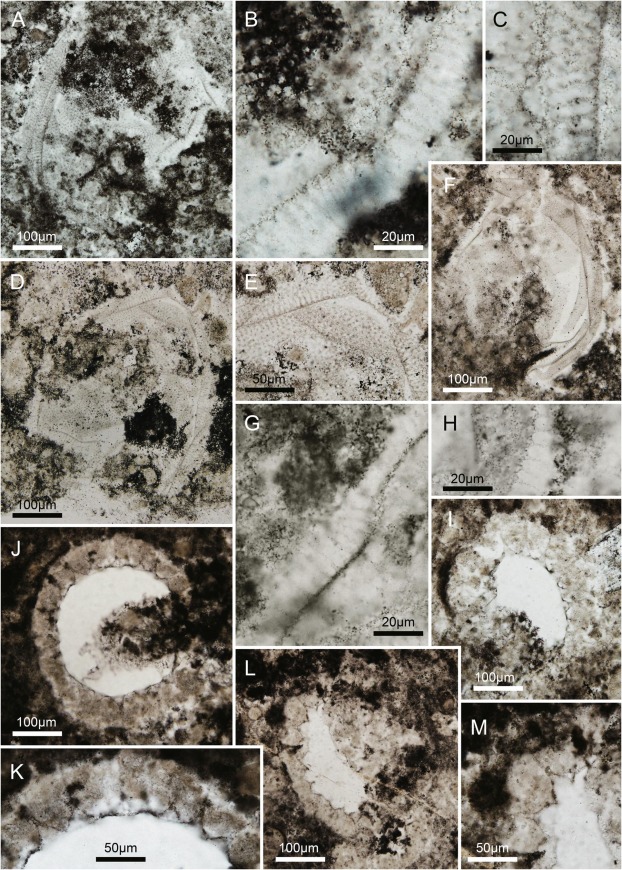 Silicified microfossils from the Doushantuo Formation at the Lujiayuanzi section
  Doushantuo-Pertatataka acritarchs (DPAs) are abundant and well preserved in the Ediacaran Doushantuo Formation in South China. Not only do they provide insights into the marine ecosystem immediately after a Neoproterozoic global glaciation, they also afford us an ideal tool for Ediacaran stratigraphic subdivision and correlation. However, previous reports of DPAs in South China are mostly from the Yangtze Gorges area in intra-shelf basin and from Weng'an in shelf margin environments, while data from localities in slope and basinal facies are lacking.
  In recent years, OUYANG Qing and colleagues from Nanjing Institute of Geology and Palaeontology, Chinese Academy of Sciences have carried out stratigraphic and microfossil investigations for an upper slope section of the Doushantuo Formation at Lujiayuanzi in northwestern Hunan Province, South China. Five DPA genera and eight species have been discovered from the Doushantuo Formation chert nodules, with the uppermost two DPA horizons occurring above a δ13C negative excursion that is correlated with the EN3/Shuram excursion based on integrated litho- and chemostratigraphic correlation. The new findings reveal a broader temporal and spatial distribution of DPAs in South China, and further support their biostratigraphic potential in the early‒middle Ediacaran subdivision and correlation.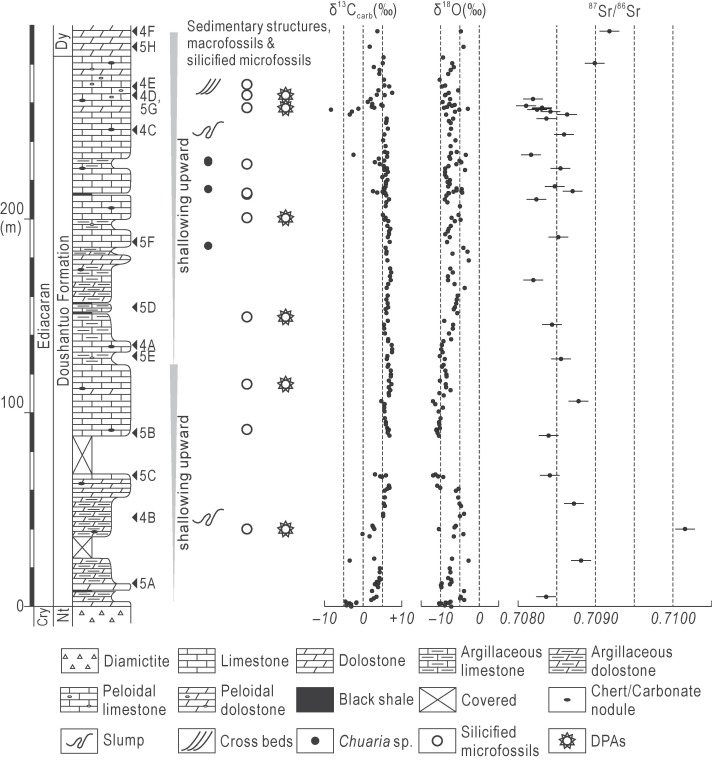 Lithostratigraphic column, fossil occurrences, and chemostratigraphy of the Lujiayuanzi section
  This work was supported by the Strategic Priority Research Program (B) of Chinese Academy of Sciences (grant number XDB18000000), the National Natural Science Foundation of China (grant number 41672027), National Basic Research Program of China (grant number 2013CB835005), and the US National Science Foundation (EAR1528553).
  Article information: Ouyang, Q., Guan, C., Zhou, C.*, Xiao, S., 2017, Acanthomorphic acritarchs of the Doushantuo Formation from an upper slope section in northwestern Hunan Province, South China, with implications for early–middle Ediacaran biostratigraphy. Precambrian Research, 298: 512–529.