There is a drowning event in the Yangtze Platform that happened during Floian to Dapingian age, which refers to curtailment or shut down of shallow water carbonate platform and reef production, and has resulted in the changes of depositional regime. What makes this event more important is the coincidence with Great Ordovician Biodiversification Event (GOBE).
The GOBE is a rapid radiation of marine biodiversity in Ordovician Period, especially during the Early to Middle Ordovician. Conducting case studies in South China for more than ten years, Chinese researchers have already achieved quite a few detailed results in this process. But researches about its mechanism and environmental background are still insufficient. Thus, a detailed study on the process of this drowning event is necessary.
Recently, Ph.D. candidate LUAN Xiaocong, Prof. ZHAN Renbin and other researchers form Nanjing Institute of Geology and Palaeontology, Chinese Academy of Sciences, in collaboration with sedimentologists and paleontologists from Peking University and University of Cincinnati, USA, have been carrying out the sedimentological study on the Lower-Middle Ordovician succession at Xiangshuidong, southwestern Hubei Province.
Their investigation shows that the drowning event appear as the replacement of pure grey grainstones and packstones of the Hunghuayuan Formation by purple red, argillaceous limestone of the Zitai Formation and correlative units, which are mixed siliciclastic and carbonate deposits.
The drowning was gradual and fluctuating, starting as a marginal shoal, through the inner ramp, and becoming a stable ramp setting. This drowning is mainly attributed to a global sea-level rise, and an increase of terrigenous supply that resulted from local tectonic movement (i.e. the initiation of collision between the South China and Cathaysia blocks).
After drowning, red offshore marine facies were well developed along the platform margin, indicating an oxic sea bottom environment during the first acme of GOBE in South China.
The changes in environments associated with this transition may have provided new evolutionary opportunities that contributed to the Middle Ordovician diversification. It is a key for us to further understand the detailed process of GOBE in South China.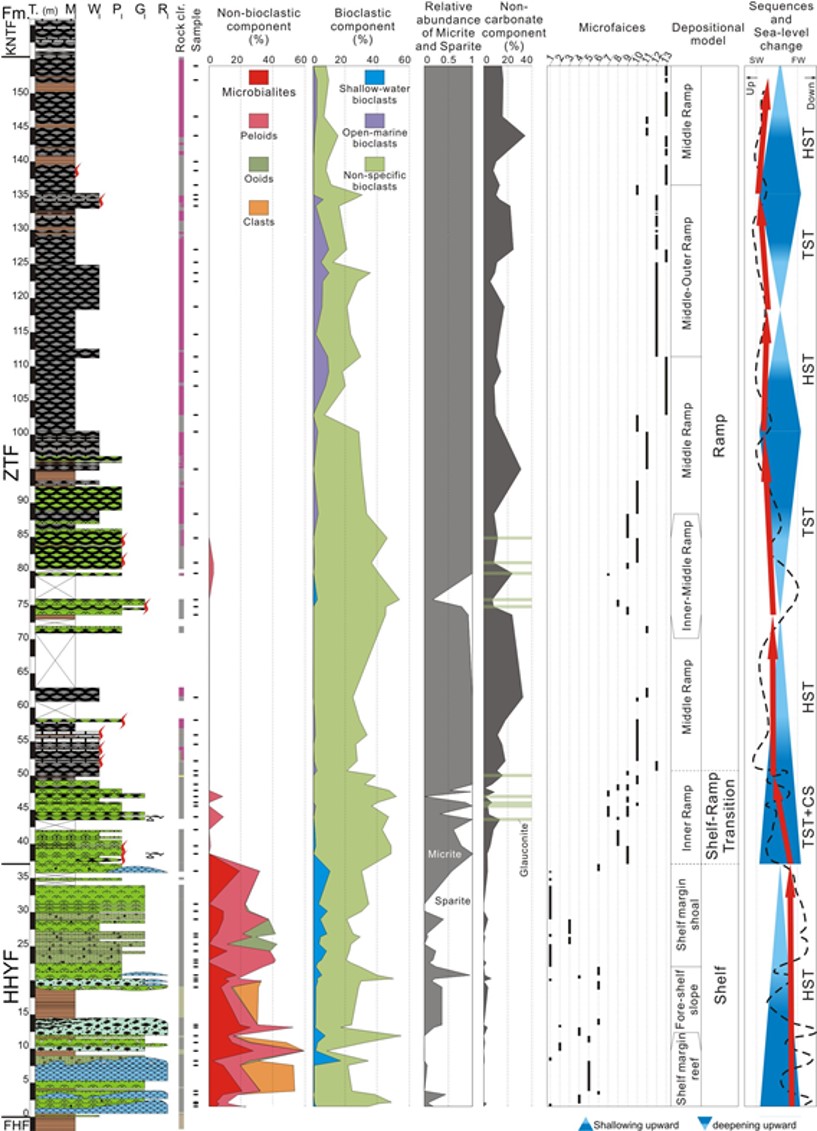 Component vertical successions, microfacies distribution and sea-level change of the Hunghuayuan (HHYF) and the Zitai (ZTF) formations at Xiangshuidong section. Abbreviations: FHF, Fenhsiang Formation; KNTF, Kuniutan Formation; T., thickness; M, mudstone; W, wackestone; P, packstone; G, grainstone; R, reef; clr., color; SW, storm wave base; FW, fair weather wave base; HST, Highstand Systems Tract; TST, Transgressive Systems Tract; CS, Condensed section.
Related information of this paper: Luan Xiaocong, Carlton E. Brett, Zhan Renbin, Liu Jianbo, Wu Rongchang, Liang Yan. 2017. Microfacies analysis of the Lower-Middle Ordovician succession at Xiangshuidong, southwestern Hubei Province, and the drowning and shelf-ramp transition of a carbonate platform in the Yangtze region. Palaeogeography, Palaeoclimatology, Palaeoecology. https://doi.org/10.1016/j.palaeo.2017.06.004