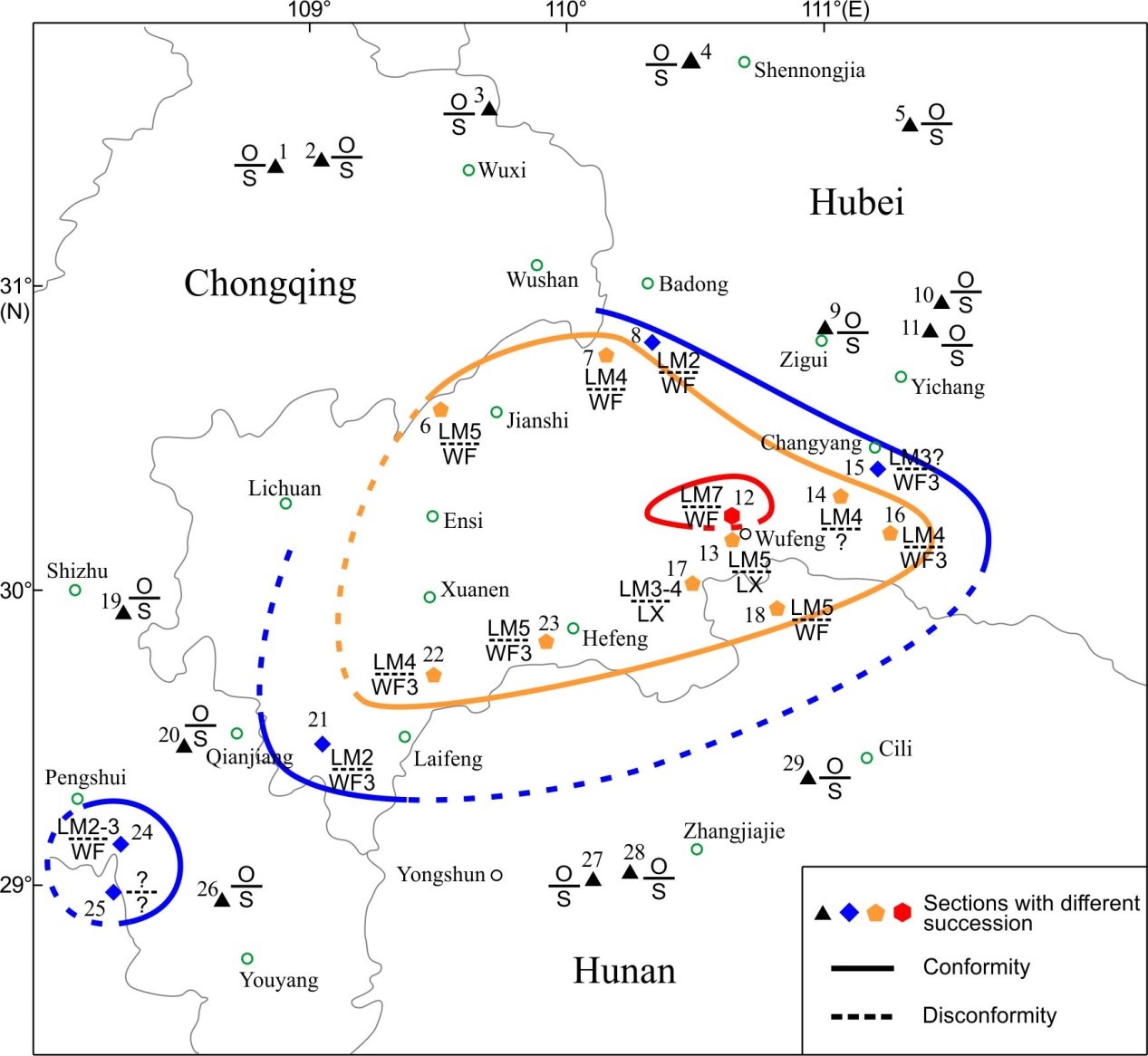 patial and temporal distribution of the Yichang Uplift
  Stratigraphic hiatuses of variable time intervals within the Rhuddanian to early Aeronian (Llandovery, Silurian) are identified in the area bordering East Chongqing, West Hubei and Northwest Hunan in central China. Their distribution suggested the existence of a local uplift, traditionally named the Yichang Uplift.
  The diachronous nature of the basal black shale of the Lungmachi Formation crossing different belts of this Uplift signifies the various developing stages during the uplifting process. The present paper by Prof. CHEN Xu from Nanjing Institute of Geology and Palaeontology, Chinese Academy of Sciences and collegues define the temporal and spatial distribution pattern of the Yichang Uplift, which might be one of the important controlling factors for the preservation and distribution of the shale gas in this region.
  The present work is a sister study to the published paper, "Stage-progressive distribution pattern of the Lungmachian black graplolitic shales from Guizhou to Chongqing, Central China". These two studies provide a complete Ordovician-Silurian black shale distribution pattern in the Middle and Upper Yangtze, a region with the major shale gas fields in China.
  This research was published in Science China Earth Sciences as a cover story, and it was supported by Strategic Priority Research Program of Chinese Academy of Sciences, the National Natural Science Foundation of China and the National Science and Technology Major Project of China.
  Reference: Chen X, Chen Q, Zhen Y, Wang H, Zhang L, Zhang J, Wang W, Xiao Z. 2018. Circumjacent distribution pattern of the Lungmachian graptolitic black shale (early Silurian) on the Yichang Uplift and its peripheral region. Science China Earth Sciences, 61: 1195–1203.