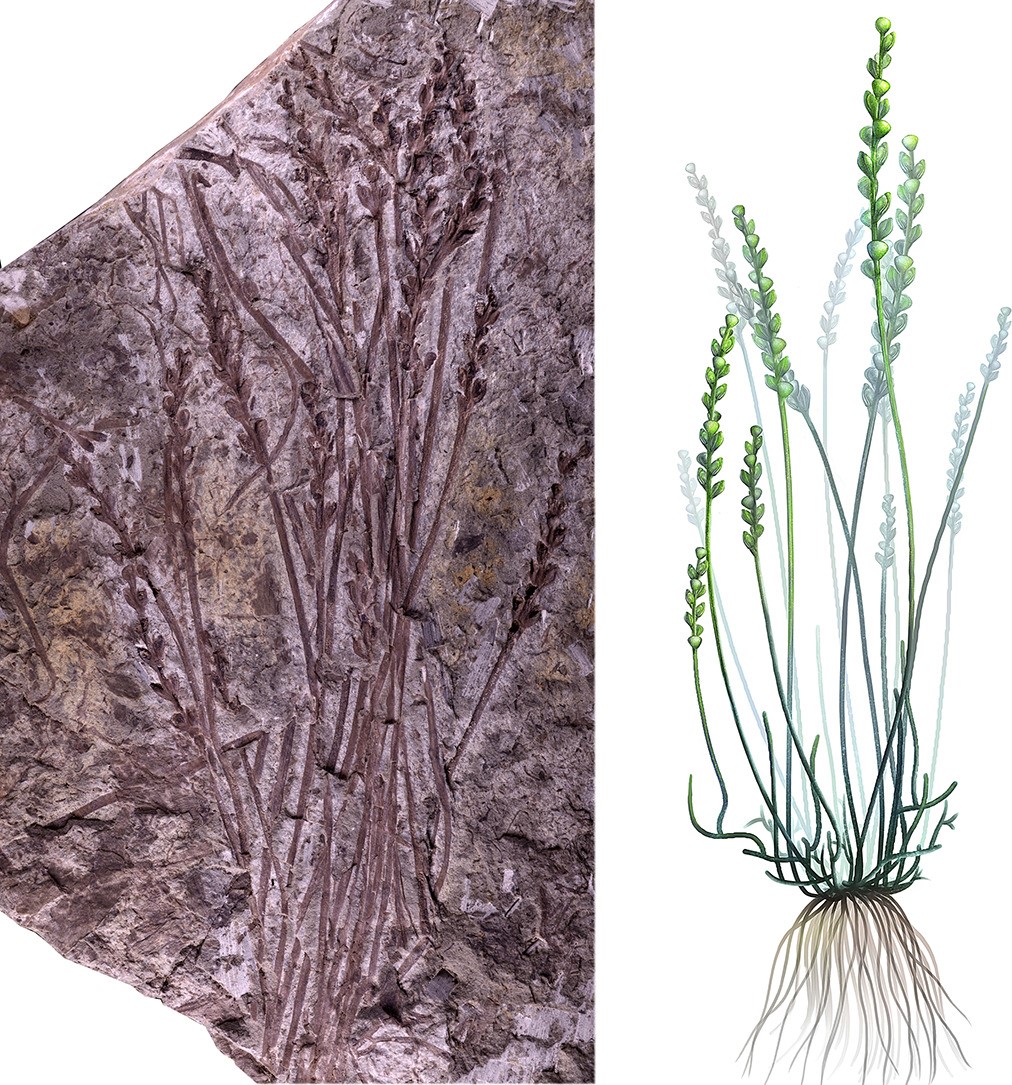 Zosterophyllum sinense (Zosterophyllopsida) from the Lower Devonian Cangwu Formation of Guangxi, South China: the type specimen (PB6477, left) and the reconstruction (right)
  The zosterophyllopsid, an important group of the early land vascular plants, was widespread on a number of palaeocontinents of the Early Devonian and acts as a dominant plant member of the South China Early Devonian flora. Most previous studies were based on specimens from Yunnan, whilst few studies were given to Lower Devonian plants from Guangxi. Though, Zosterophyllum sinense was reported by Li and Cai in 1970s, more detailed information was obscure. It is significant for understanding plants evolution, comparing floars and palaeogeography to study zosterophyllosids from Guangxi Province.
  Recently, Professor XU Honghe and WANG Yi, Associate Professor FU Qiang and graduate student WANG Yao from Nanjing Institute of Geology and Palaeontology, Chinese Academy of Scienses have re-observed the type specimens of Zosterophyllum sinense from Lower Devonian of Guangxi and collected new specimens from the same locality.
  This research carries a further study on the rooting system, terminal spikes and sporangial dehisce characteristics of Z. sinense, revises it diagnosis and reconstructs this plant.
  The plant with tufted habit consists of the below-ground part (rhizome area) and the above-ground part (axes and terminal spikes). The rhizome area is formed by dense masses of axes extending towards several directions and the axes above-ground are smooth and often branching K-shaped or anisotomous near-ground. Spike comprises the central fertile axis and loosely and helically arranged sporangia. The sporangium is pear-shaped or fan-shaped in face view and fusiform to oval in lateral view. The sporangium dehisces into two unequal sporangial valves and the abaxial valve is larger than the adaxial one.
  Palaeogeographically, Guangxi belonged to the Cathaysia Block, a sub-region of the South China Block, while previous Lower Devonian floristic records were mainly from Yunnan, which belonged to the Yangtze sub-region of the whole South China Block. Though, the Cathaysia and Yangtze blocks belonged to a continental terrane, there was an epicontinental sea between the two blocks during the Palaeozoic. Plant fossils in this study suggest a floristic distinction between the two blocks.
  This paper will be published recently in the Journal "Review of Palaeobotany and Palynology", as below:
  Reference: Wang Y., Xu H-H, Wang Y, Fu Q, 2018. A further study of Zosterophyllum sinense Li and Cai (Zosterophyllopsida) based on the type and the new specimens from the Lower Devonian of Guangxi, southwestern China. Review of Palaeobotany and Palynology. 258, 112–122.