During late Cretaceous to Palaeogene, there were many terrestrial salty basins in Eastern China. Many of the basins are the main oilfields in Eastern China, and salt rocks in the basins formed good cap rocks for gas and oil. Since 1970s, it has been debated that these basins were terrestrial salt lakes or transgressed by sea.
The Palaeogene Shahejie Formation in the Shulu Sag of Huabei Oilfield developed a great thickness of sediments of evaporate rocks, among which layers of mudstones also occurred.
Dr. Cheng Jinhui and Dr. Meng Fanwei of Nanjing Institute of Geology and Palaeontology, Chinese Academy of Sciences and Dr. Zhao Yanjun of Chinese Academy of Geological Sciences discovered some well-preserved fossils of dinoflagellate cysts in this formation. Salt rocks and assemblage of fossil dinoflagellate cysts indicate a palaeoenvironment of salt lake. The discovery not only indicates the palaeoenvironment of late Palaeogene, but also is helpful for the evaluation of oil source rocks in this set of salt-bearing strata.
Reference: Cheng, J., Zhao, Y. & Meng, F. 2018. Paleogene organic-walled dinoflagellate cysts in the Shulu Sag, Hebei Province, China. Carbonates and Evaporites. DOI: https://doi.org/10.1007/s13146-018-0456-8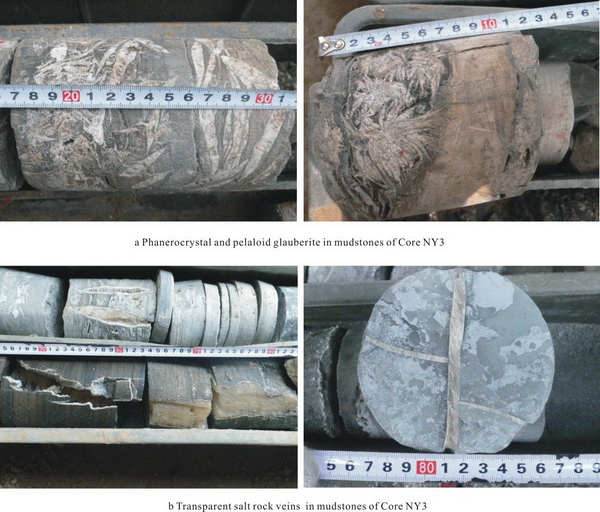 Mudstones interweaved with salt in core NY3 in the Shulu Sag.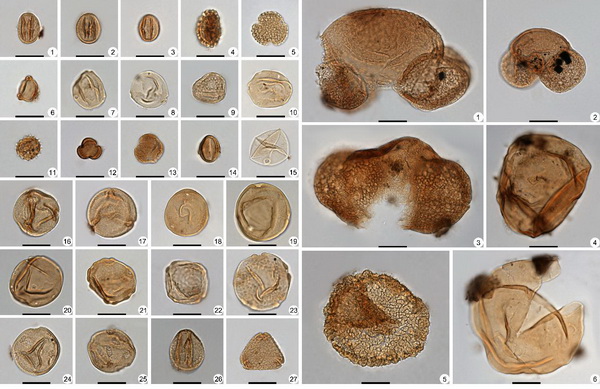 Dinoflagellate cysts from Core NY3 in the Shulu Sag.