Paleozoic stromatoporoids have long been considered to have emerged during the late Middle Ordovician. Five of seven families in the Order Labechiida appeared nearly contemporaneously during the Darriwilian throughout the low-paleolatitude regions of Laurentia, Siberia and Gondwana. This rather sudden and almost simultaneous widespread Darriwilian appearance of diverse early stromatoporoids has been explained by two different hypotheses: the conventional view states that the early stromatoporoids arose from one or two basic skeletonized rosenellids such as Cystostroma or Pseudostylodictyon, whereas the alternative hypothesis suggests that stromatoporoids rose from 'a simple, non-calcifying sponge root stock' that acquired the ability to secrete a mineralized skeleton during the Darriwilian.
Recently, Dr. LI Qijian from Nanjing Institute of Geology and Palaeontology and his collaborators from South Korea have reported a new species of the most primitive rosenellid stromatoporoid Cystostroma (C. primordia sp. nov.) from the Hunghuayuan Formation (Lower Ordovician, Floian) of Guizhou Province in the South China Block (Figure 1) and the Duwibong Formation (Middle Ordovician, Darriwilian) of the Taebaeksan Basin in mid-eastern Korea (North China Block) (Figure 2). This species is the first representative of the genus found in both the North and South China blocks. Cystostroma primordia sp. nov. is characterized by the absence of denticles and distinctively smaller cyst plates than any other known species of Cystostroma.
The presence of this new species in Lower to Middle Ordovician strata of western Gondwana challenges the long-held view of the late Middle Ordovician emergence of Paleozoic stromatoporoids. The simple internal morphological features of this new species and its occurrence in the Lower Ordovician of South China strongly indicate that an Early Ordovician Cystostroma-type precursor from western Gondwana is located near the base of the stromatoporoid stock. This occurrence greatly preceded the late Middle Ordovician (late Darriwilian) stromatoporoid diversification in circum-equatorial regions worldwide.
Reference: Juwan Jeon, Qijian Li, Jae-Ryong Oh, Suk-Joo Choh, Dong-Jin Lee. 2018. A new species of primitive stromatoporoid Cystostroma from the Ordovician of East Asia. Geosciences Journal, DOI: https://doi.org/10.1007/s12303-018-0063-7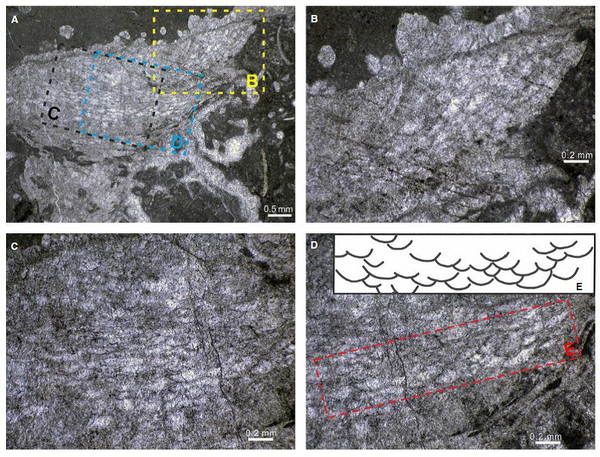 Photomicrographs of the labechiid stromatoporoid Cystostroma from South China.


Field photographs of a stromatoporoid-bryozoan skeletal reef in the Duwibong Formation. Scale bars in Figures 2b and c = 1 cm.