The Cretaceous–Paleogene boundary (K–Pg boundary) marks the beginning of the Cenozoic, and is one of the most important geological boundaries. Charophytes are usually very abundant in the non-marine strata near the K–Pg boundary, and the significant changes of charophyte flora can help to recognize the K–Pg boundary. The "SK-1" scientific drilling project in the Songliao Basin is the first continental Cretaceous scientific drilling under the framework of the International Continental Scientific Drilling Program, which provides a rich source of fossils for this research.
Recent investigation conducted by the assistant researcher Sha LI, Professor Qifei WANG, Professor Haichun ZHAMG from "Modern terrestrial ecosystems origin and early evolution research team" at the Nanjing Institute of Geology and Palaeontology, Chinese Academy of Sciences, cooperated with Xiaoqiao WAN from the China University of Geosciences and Carles MARTíN-CLOSAS from the University of Barcelona, studied the change of charophyte floras from the Cretaceous–Paleogene transition in the Songliao Basin.
Four charophyte biozones and one superzone are defined in the Sifangtai and Mingshui formations from the SK-1(North) borehole in the Songliao Basin (NE China) and correlated to the Geomagnetic Polarity Time Scale. These include a mid–late Campanian Atopochara trivolvis ulanensis Zone, a latest Campanian–early Maastrichtian Microchara gobica Zone, a late Maastrichtian Microchara prolixa Zone, and an earliest Danian Peckichara sinuolata Zone. The latter three zones are grouped within the Microchara cristata Superzone, which allows intra- and intercontinental correlation with other basins in China and Europe. Peckichara sinuolata first appears in chron C29r (upper Mingshui Formation) and is proposed as the basal marker of the Paleocene.
The biozonation of the K–Pg interval proposed for the Songliao Basin differs from a previous biozonation proposed in the Pingyi Basin since it represents a different biogeographical and palaeoecological context. In the mid-Campanian to Maastrichtian, the flora was limited to freshwater lakes in northern China and Mongolia, whereas in the Pingyi Basin, brackish water dominated. In the Paleocene, the Songliao Basin contained a diverse flora consisting of nine species that thrived in terrigenous and temporary lakes, whereas the flora in the Pingyi Basin was dominated by one species inhabiting permanent alkaline lakes. The species common to the two basins are widely distributed in Eurasia and constitute a useful tool for long-distance correlations, but serve as a less-precise tool for detailed biostratigraphical subdivision within one specific basin.
Reference: Li, S.*, Wang, Q.F., Zhang, H.C., Wan, X.Q., Martín-Closas, C.*, 2018. Charophytes from the Cretaceous–Paleocene boundary in the Songliao Basin (north-eastern China): a Chinese biozonation and its calibration to the Geomagnetic Polarity Time Scale. Papers in Palaeontology, DOI: 10.1002/spp1002.1225.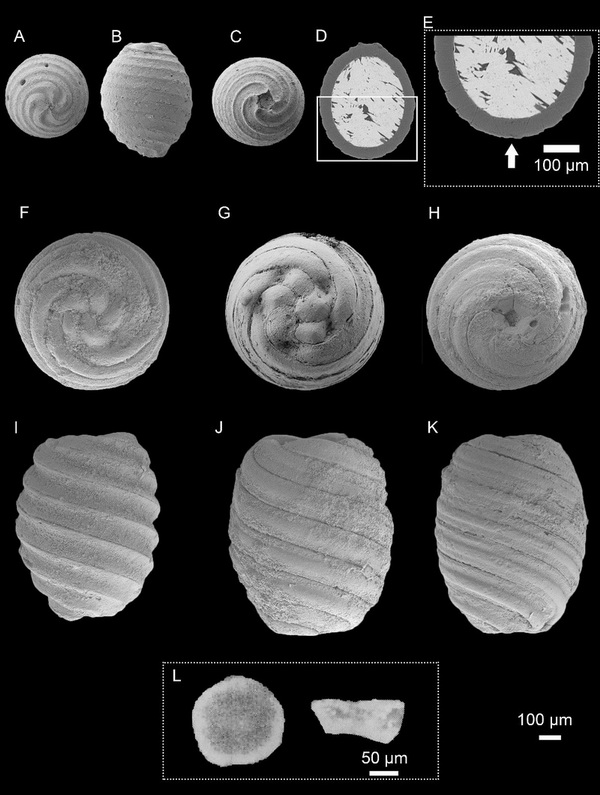 Charophytes from the Songliao Basin.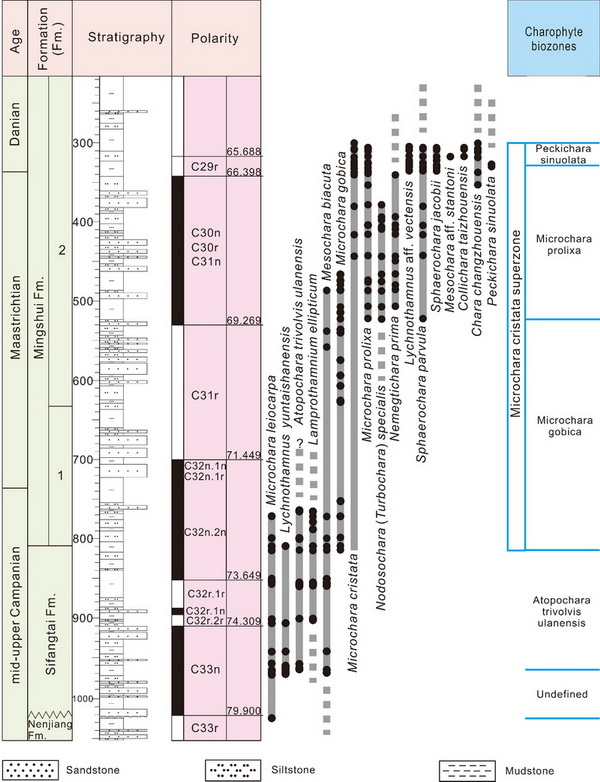 Stratigraphic log of the SK-1(N) borehole showing position of samples and of charophytes, calibrated to the GPTS (Deng et al. 2013).