In recent years, abundant Triassic-Cretaceous radiolarian fossils have been collected within the Yarlung Zangbo Suture Zone (YTSZ) in Zedong area of southern Tibet by the research group of Prof. LUO Hui from the Nanjing Institute of Geology and Paleontology of the Chinese Academy of Sciences.
PhD candidate CHEN Dishu and others from Prof. Luo's research group, in cooperation with Prof. Atsushi Matsuoka of Niigata University in Japan, documented an Anisian radiolarian fuana obtained from varicolored bedded cherts exposed in the Buruocang section near Jinlu village in Zedong recently.
The radiolarian-bearing rocks represent fragmented remnants of the Neotethys oceanic sediments belonging to the mélange complex of the east part of the Yarlung-Tsangpo Suture Zone. Two new middle Late Anisian radiolarian assemblages recognized from this section named Oertlispongus inaequispinosus and Triassocampe deweveri, respectively, are compared with those known from Europe, Far East Russia, Japan, and Turkey.
These Anisian radiolarian fossils are the first reported in southern Tibet and the oldest radiolarian record within the Yarlung-Tsangpo Suture Zone so far. They provide a valuable new age constraint and allow the researchers to infer the timing of the early stage of the Neotethyan evolution in southern Tibet. At least in the Anisian, the eastern YTSZ had a pelagic sedimentary environment.
This research was supported by the Strategic Priority Research Program (B) of the Chinese Academy of Sciences, National Natural Science Foundation of China and also in part by the Japan Society for the Promotion of Science KAKENHI.
Reference: Chen D, Luo H, Wang X, Xu B, Matsuoka A. Late Anisian radiolarian assemblages from the Yarlung-Tsangpo Suture Zone in the Jinlu area, Zedong, southern Tibet: Implications for the evolution of Neotethys. Island Arc. 2019: 1–10. https://doi.org/10.1111/iar.12302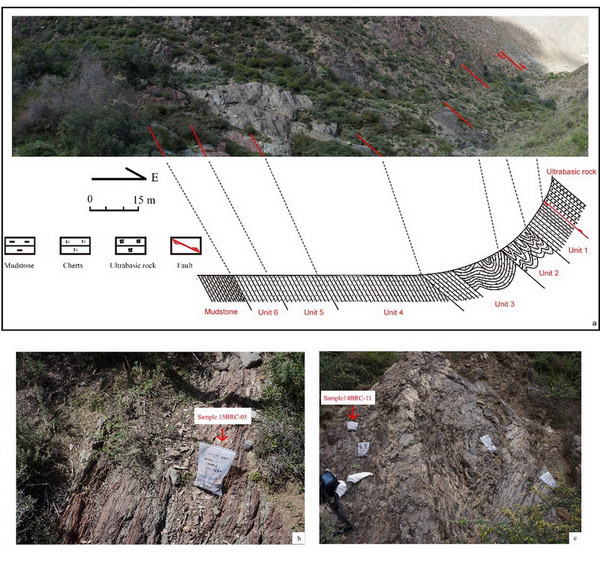 Outcrop photographs of Buruocang section of the bedded cherts, in Zedong , southern Tibet, Image by CHEN Dishu.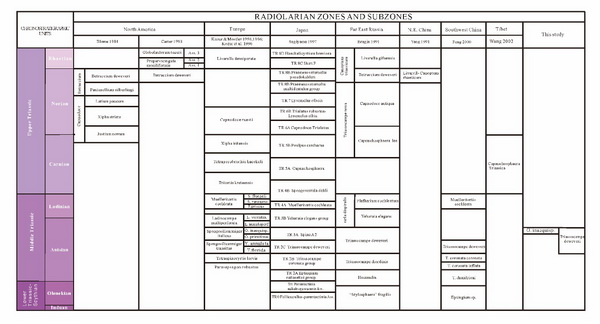 Correlation of Triassic radiolarian zones and subzones, Image plotted by CHEN Dishu.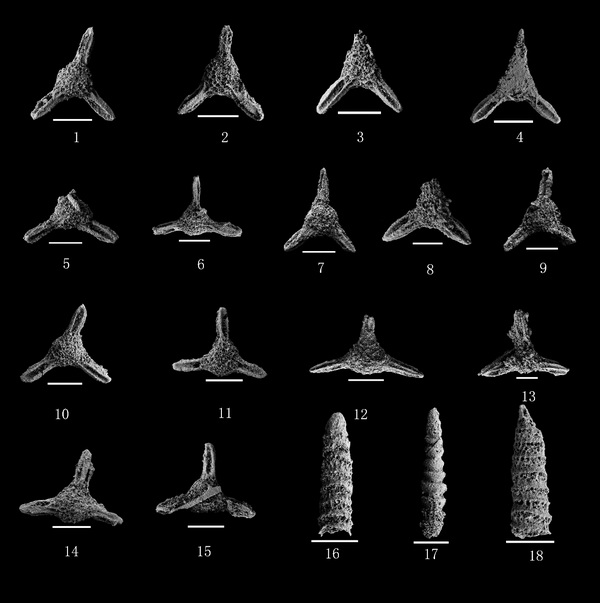 Late Anisian radiolarians from Sample 14BRC-11 at the Buruocang section, Image by CHEN Dishu.
Contact:
Prof. LUO Hui PhD Corresponding author
Nanjing Institute of Geology and Palaeontology, Chinese Academy of Sciences
Nanjing, Jiangsu 210008, China