There have been several cladistic analyses of the phylogeny of different groups of 'nautiloid' cephalopods, including classification at lower taxonomic levels, generic affinities and their evolutionary path at higher taxonomic levels. However, a systematic and comprehensive analysis is still pending, and many taxa have never been investigated.
Lituitid cephalopods are distinguished from other Ordovician cephalopods by their specific conch shape and ornaments. Most of them have a coiled or cyrtoconic part at the early growth stage, and then develop the uncoiled or fully straight conch at the late stage.
As the index fossils in Middle to Late Ordovician, the classification and phylogeny of lituitids have been long debated. Recently, Dr. FANG Xiang and colleagues from Nanjing Institute of Geology and Palaeontology, Chinese Academy of Sciences (NIGPAS), and researchers from Universitat Zürich, University of Helsinki, Charles University in Prague and Mahasarakham University, conducted phylogenic analysis on Lituitida (Cepahlopoda), based on the large amount materials from South China. This work has been published in Journal of Systematic Palaeontology.
The first cladistic analysis of the order Lituitida based on published was presented, as well as some new, material. Three clades are recovered within the ingroup of lituitids, Sinoceras, Ancistroceras and Lituites; the former group correspond to the family Sinoceratidae, and the latter two to the Lituitidae.
"The topology shows that the Sinoceratidae represents the basal branch, while the Lituitidae represents a monophyletic, derived clade", Dr. FANG Xiang says, "Furthermore, we describe new material of four species (three of which are newly defined) in four genera of the order Lituitida from the well-exposed, Middle to Upper Ordovician of Hubei (South China). Tyrioceras longicameratum from South China is the first reported occurrence of Tyrioceras in China, which has significant palaeogeographical implications."
This research is supported by Chinese Academy of Sciences Strategic Priority Research Program and National Natural Science Foundation of China.
Reference: Fang, X.*, Pohle, A., Kroger, B., Aubrechtová, M., Burrett, C., Zhang, Y.B., Zhang, Y.D., 2021. Phylogeny of Middle–Late Ordovician lituitid cephalopods based on cladistic analysis. Journal of Systematic Palaeontology, 19(9): 633–350. https://doi.org/10.1080/14772019.2021.1944354.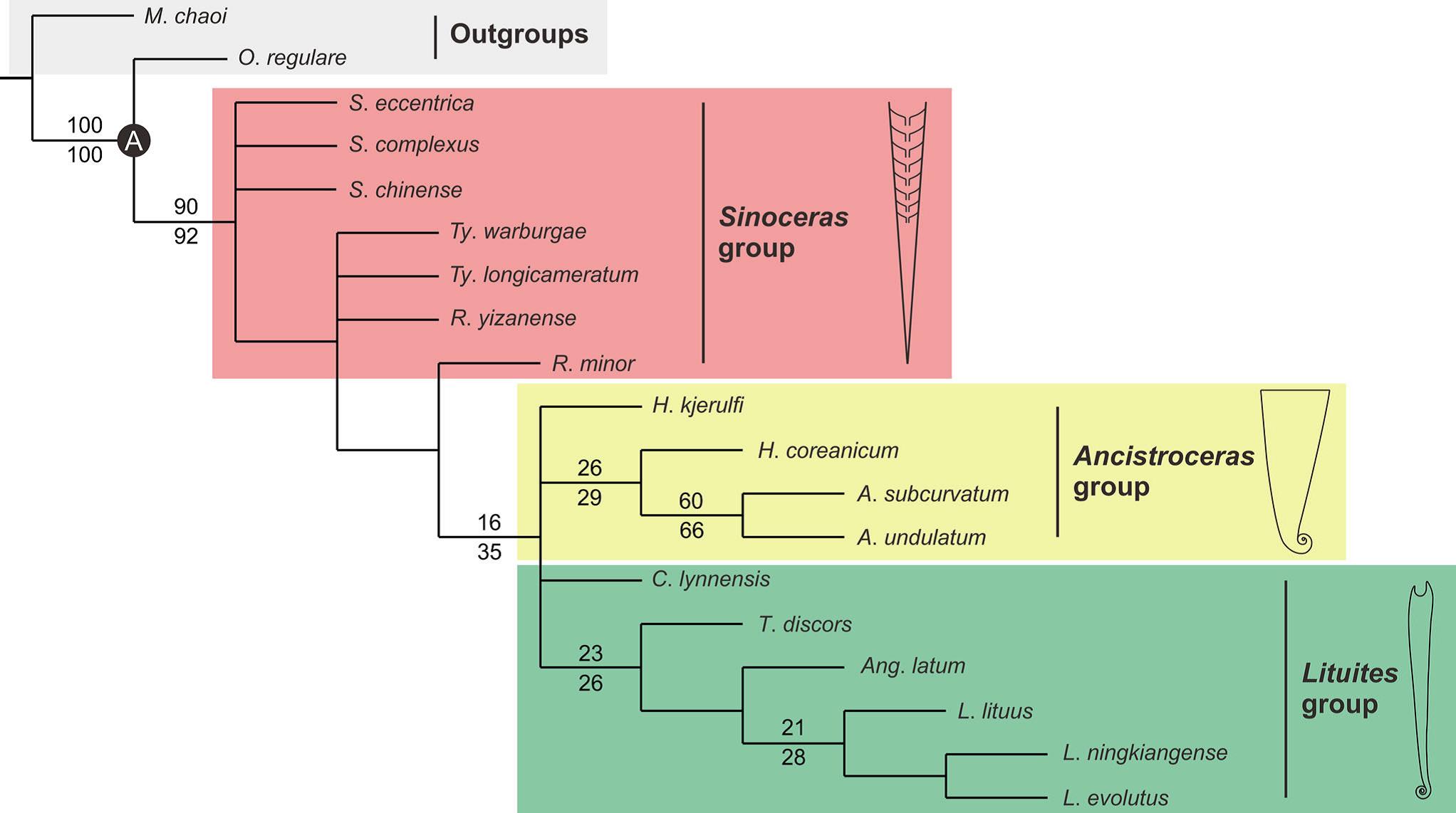 Cladistic analysis on Lituitida (Cephalopoda)
Rhynchorthoceras yizanense sp. nov. from Datianba Formation, Sangzhi, Hunan Province
Contact:
LIU Yun, Propagandist
Email: yunliu@nigpas.ac.cn
Nanjing Institute of Geology and Palaeontology, Chinese Academy of Sciences
Nanjing, Jiangsu 210008, China