The rapid appearance of major animal groups and complex marine communities during the Cambrian explosion is recorded in large part in Burgess Shale-type lagerstatten. Nevertheless, most of the well-known Cambrian lagerstatten are restricted to a few terranes, with most of them occurring in South China (Epoch 2) or Laurentia (Miaolingian). The large tempo-spatial discrepancy of distribution of the soft-bodied fossil lagerstatten limits our understanding of the Cambrian explosion of animals on earth.
Named the Linyi Lagerstatte (ca. 504 mya), a new middle Cambrian lagerstatte from the Zhangxia Formation in Shandong Province, North China, provides a new window into the morphological disparity, community structure, and paleogeographic distribution of marine faunas following the Cambrian explosion. A research team from the Nanjing Institute of Geology and Palaeontology, Chinese Academy of Sciences (NIGPAS) reports online April 5 in National Science Review.
The limited known spatial distribution of Cambrian lagerstatten thus underscores the importance of the newly discovered Miaolingian Linyi Lagerstatte. The new assemblage contains a variety of well-preserved soft-bodied fossils, among which the non-trilobite arthropods, particularly the mollisoniids and radiodonts, are the most important groups. The Linyi Lagerstatte is remarkable for its excellent preservation of arthropod limbs, eyes, and guts, these well-preserved fossils promise to yield new anatomical data bearing on the early evolution of animals.
"The close similarity in taxonomy between the Linyi Lagerstatte of North China and those of Laurentian lagerstatten suggests that North China may have provided a biogeographic link between East Gondwana and Laurentia" Prof. ZHAO Fangchen says.
North China is now an important region for investigating the early evolution of middle Cambrian animals, and its Miaolingian deposits have great potential for yielding additional exceptional biotas. Since the discovery of the Chengjiang biota in 1984, South China has gradually become the principal area for the study of early Cambrian Lagerstatte. The discovery of the Linyi Lagerstatte may also open a new chapter in the study of middle Cambrian BST deposits in North China.
Reference: Sun, Z.X., Zhao, F.C.*, Zeng, H., Luo, C., Van Iten, H., Zhu, M.Y., 2022. The middle Cambrian Linyi Lagerstatte from the North China Craton: a new window on the Cambrian evolutionary fauna. National Science Review, https://doi.org/10.1093/nsr/nwac069.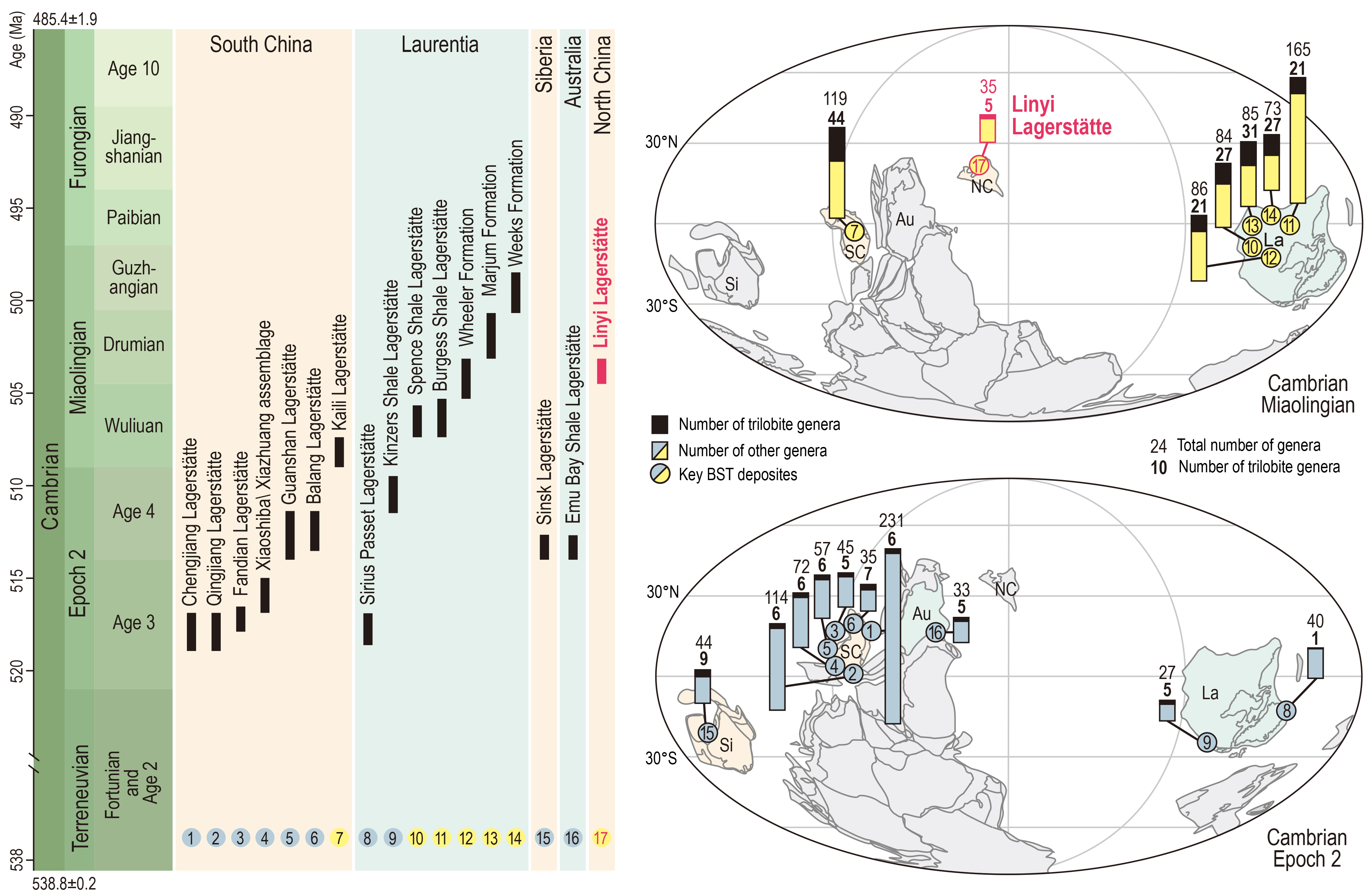 Fig. 1. Spatial and temporal distribution and taxonomic diversity of 16 major Cambrian lagerst?tten, and the position of the Linyi Lagerstatte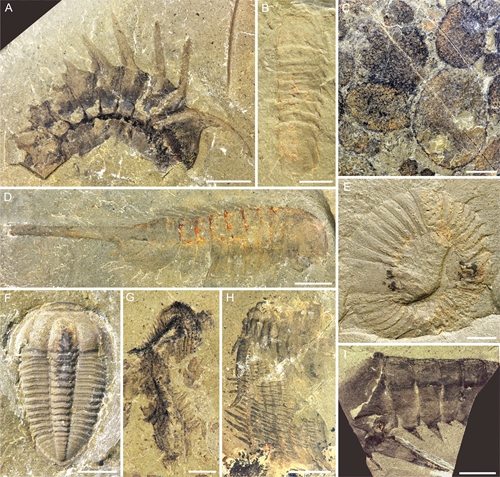 Fig. 2. Representative fossils from the Linyi Lagerstatte. A. Thelxiope spinosa; B. Mollisonia symmetrica; C. Monospecific cluster of the sponge Diagoniella sp; D. Thelxiope tangi sp. nov; E, Oral cone of ; Cordaticaris striatus F, Changqingia puteata; G, Worm-like animal; H, Frontal appendages of Cordaticaris striatus; I. Frontal appendage of an amplectobeluid
Fig. 3. Biogeographic comparisons of Cambrian lagerstatten and the position of the Linyi Lagerstatte. (A) Ordination plot of non-metric multidimensional scaling (nMDS) analysis. (B) Cluster analysis. (C) Bipartite network analysis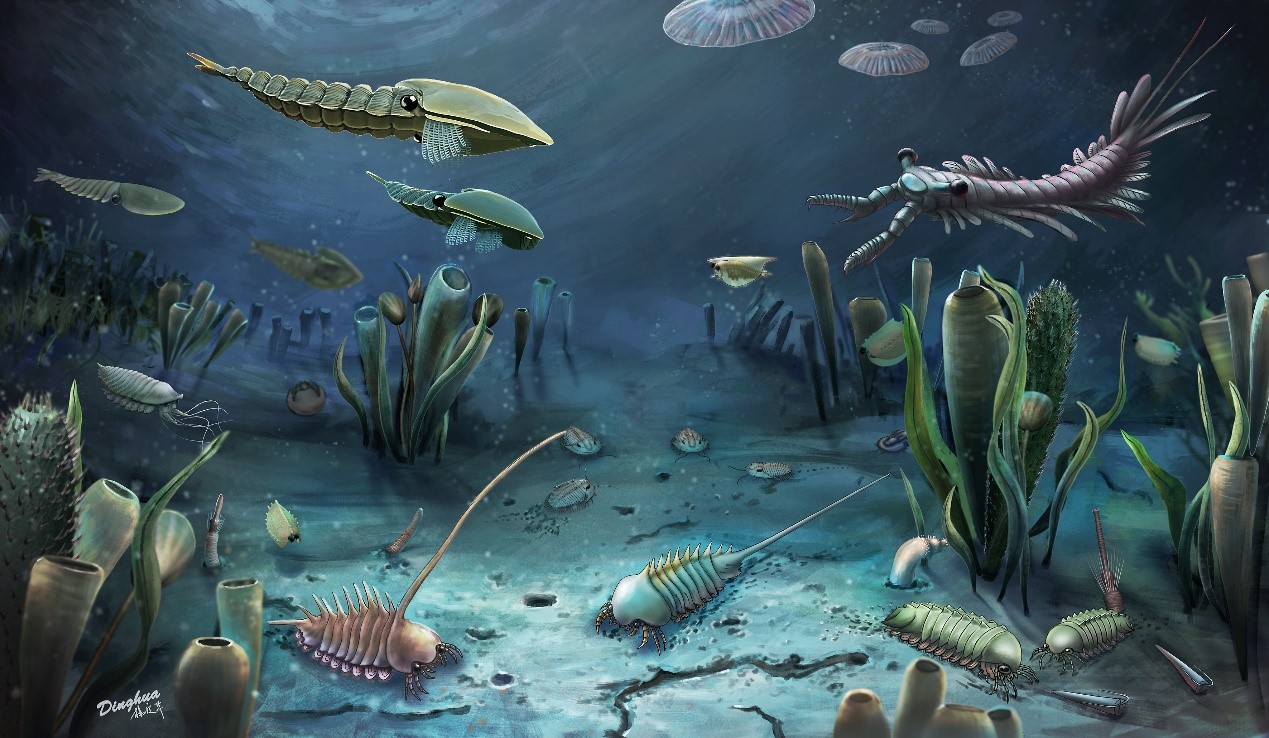 Fig. 4. Life on the platform margin of the Miaolingian sea, North China. Based on data from the Linyi Lagerstatte. Drawing by Dinghua Yang
Contact:
LIU Yun, Propagandist
Email: yunliu@nigpas.ac.cn
Nanjing Institute of Geology and Palaeontology, Chinese Academy of Sciences
Nanjing, Jiangsu 210008, China