Ptilozamites Nathorst 1878 is a seed fern genus widely documented from the Early Mesozoic with over 140 years long history; but the systematic position of Ptilozamites was debated for decades. The investigation of Ptilozamitesin China had started in 1950 due to the first discovery of Ptilozamiteschinensisby Hsü in Hunan Province. However, the systematic affinity of this plant was once transferred to the genus Pseudoctenis because of the preservation of specimens with lack of cuticular structures.
Recently, a new report was published in the international journal Review of Palaeobotany and Palynology by a research team led by Prof. WANG Yongdong from Nanjing Institute of Geology and Palaeontology, Chinese Academy of Science (NIGPAS). The team members include Prof. Mihai E. Popa (University of Bucharest of Romania), Prof. Evelyn Kustatscher (Ludwig Maximulian University of Munich, Germany), Ph.D. student and palaeobotanists from NIGPAS XU Yuanyuan, Dr. ZHANG Xiaoqing, Dr. LU Ning, Dr. LI Liqin, as well as Prof. ZHANG Tingshan's team from Southwest Petroleum University of China.
The well-preserved fossil material belonging to Ptilozamiteschinensis was recently collected from the Upper Triassic Xujiahe Formation in Guangyuan City of northern Sichuan Basin and the Upper Triassic Xiaoping Formation in central Guangdong Province. The detailed morphology and anatomy of these materials were studied and a neotype and an emended diagnosis for Ptilozamiteschinensis were proposed. The pinnule apex of Ptilozamiteschinensis are truncate or tipped with 2–4 mucrones, which is regarded as a kind of intraspecific morphological variability (Figs. 1-2). The stomata are haplocheilic, with obviously sunken guard cells surrounded by 4–7 subsidiary cells (Fig. 3). The systematic investigation of the cuticular and the macro-morphological characters supports the assignment of the species to the genus Ptilozamites rather than to the previous proposal to genus Pseudoctenis.
A comparison with the previously documented specimens of Ptilozamiteschinensis suggests a different overall morphology during the developmental process of this plant. The palaeogeographic distribution of Ptilozamiteschinensis indicates a preference for hot and humid habitats during the Late Triassic of the Southern Floristic Province, and can be considered as an important marker for the Rhaetian (Fig. 4). Its short stratigraphic range in the Southern Floristic Province (with no fossil record in the Northern Floristic Province) indicate that this taxon most likely lived in humid and hot environments and its final extinction after the Triassic/Jurassic boundary may represents an ecological response to the regional climate change.
This study was co-sponsored by the National Natural Science Foundation of China, Strategic Priority Research Program (B) of the Chinese Academy of Sciences, the State Key Laboratory of Palaeobiology and Stratigraphy and Natural Science Foundation of Jiangsu Province, China.
Reference: Yuanyuan Xu, Mihai E. Popa*, Xiaoqing Zhang, Evelyn Kustatscher, Ning Lu, Liqin Li, Jianli Zeng, Tingshan Zhang, Yongdong Wang*, 2022. Ptilozamiteschinensis (Pteridospermopsida) from the Late Triassic of South China with considerations on its intraspecific variability and palaeoenvironmental preferences. Review of Palaeobotany and Palynology, 304: 104727. https://doi.org/10.1016/j.revpalbo.2022.104727.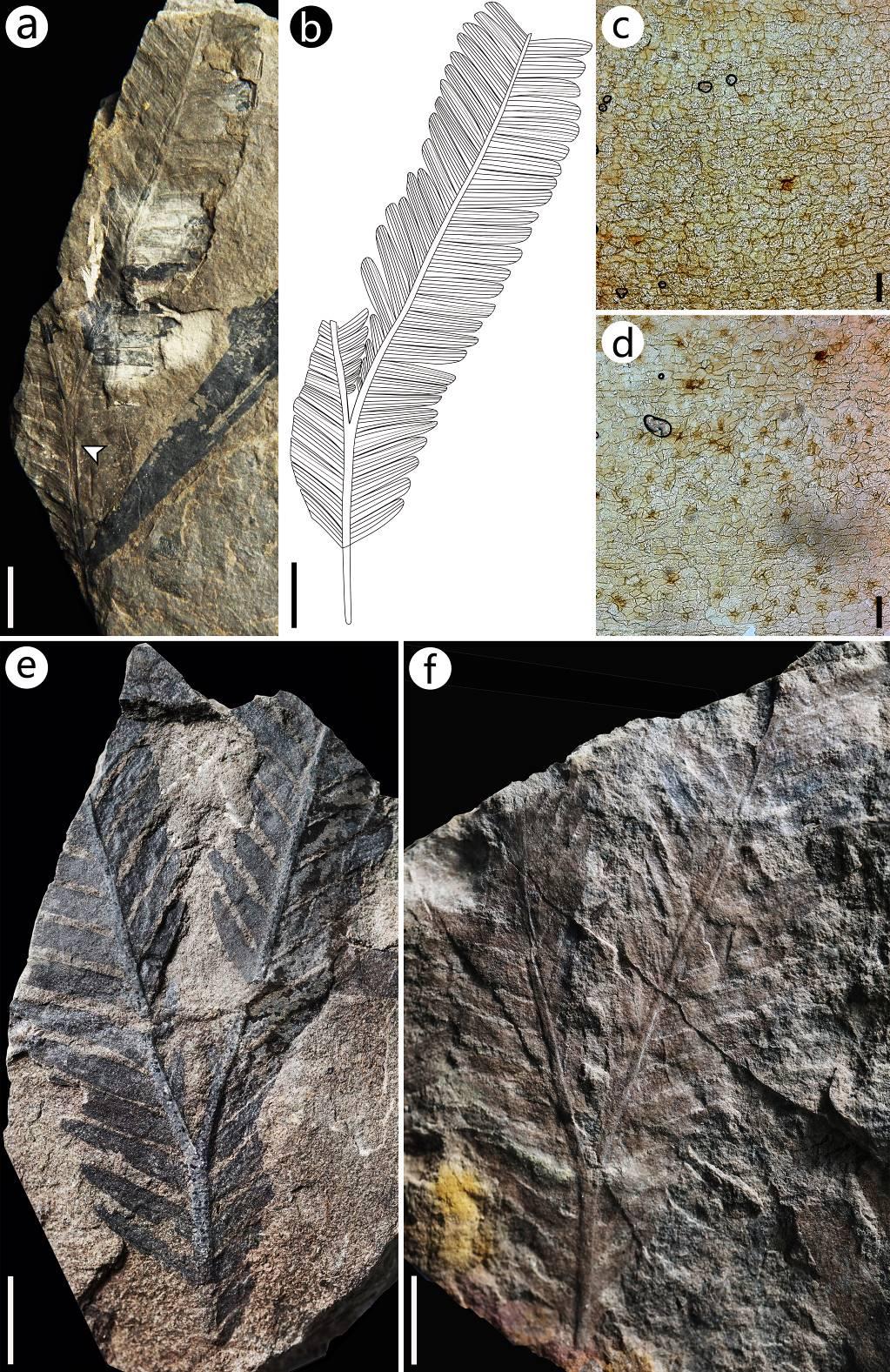 Fig. 1.New material and cuticles of Ptilozamiteschinensis Hsu, 1950 from the Upper Triassic of South China.
Fig. 2.Representative material of Ptilozamiteschinensis Hsu, 1950 from the Upper Triassic of South China, showing denticulate and rounded apices of pinnules.
Fig. 3.Cuticles of Ptilozamiteschinensis Hsu, 1950 from the Upper Triassic of China, showing details of stomatal apparatus.

Fig. 4.Palaeogeographic and geographical distribution of the outcrops yielding Ptilozamiteschinensis during the Late Triassic in China.
Contact:
LIU Yun, Propagandist
Email: yunliu@nigpas.ac.cn
Nanjing Institute of Geology and Palaeontology, Chinese Academy of Sciences
Nanjing, Jiangsu 210008, China