On November 23, a group of four delegates from Nanjing Institute of Geology and Palaeontology, Chinese Academy of Sciences (NIGPAS), headed by the director YANG Qun, was invited by the Paleontological Institute, Russian Academy of Sciences (PINRAS) director Sergey V. Rozhnov to visit the institute and museum in Moscow. Both directors represented the staffs of their institute agreed to sign a Memorandum of Understanding (MoU) to enhance interaction for future researches.
The Chinese delegates received warm welcome from Russian scientists. Both Drs. Rozhnov, the acting director, and Academician Alexei Y. Rozanov, the head of Biology Division of the Russian Academy of Sciences, had separate meetings with the Chinese discussing specific future research expectations. Both parties had opportunities to introduce their administrative structure, major research objectives and important research impacts. Furthermore, they agreed to sign a MoU to promote joint research projects, academic research exchange, information exchange, joint training program for young scientists, and joint field excursions, with pragmatic goals and details for the future collaborative effort and development of Sino-Russia paleontological research. 
During this visit, YANG Qun and other Chinese delegates had opportunities to meet the scientists and exchange information from different laboratories, including Lab of Arthropods, Lab of Molluscs, Lab of Paleobotany, Lab of Precambrian Organisms, Lab of the Most Ancient Organisms and the museum staffs. YANG Qun stressed that both PINRAS and NIGPAS are national research institutes focusing on studies of paleontology and stratigraphy, and both institutes have a long history of science cooperation, thus, there is a solid background framework and a great potential to enrich future collaboration. Building upon the MoU, there are efforts to explore new joint research directions, to have more collaboration opportunities, to share information and resources, and to publish more joint work with important and longstanding impacts.
On the ceremony of signing the MoU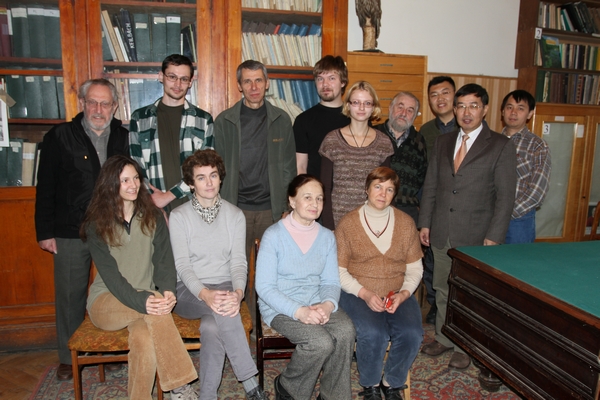 Meeting with researchers from the Laboratory of Arthropods