On December 12, 2019, Professor Igor Eltsov from Institute of Petroleum Geology and Geophysics of the Russian Academy of Sciences, and Director Nikolay Sennikov of the Department of Palaeontology paid a visit to NIGPAS. Prof. Igor and Prof. Nikolay introduced the basic situation of their institute, and respectively gave academic reports entitled "The algae Euglenales in the Silurian of the Gorny Altai" and "Cross-Disciplinary Study of the Near Borehole Zone".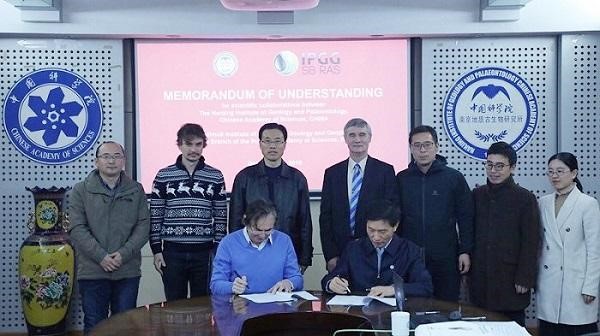 On November 19, 2019, the representatives of Mahasarakham University in Thailand, and Director ZHAN Renbin and researchers of NIGPAS signed a memorandum of cooperation in Beijing. During the discussion, the two sides exchanged ideas in-depth about the cooperation areas, explored more cooperation ways and forms, and reached some consensus on joint fieldwork, talent training, research projects cooperation and so on.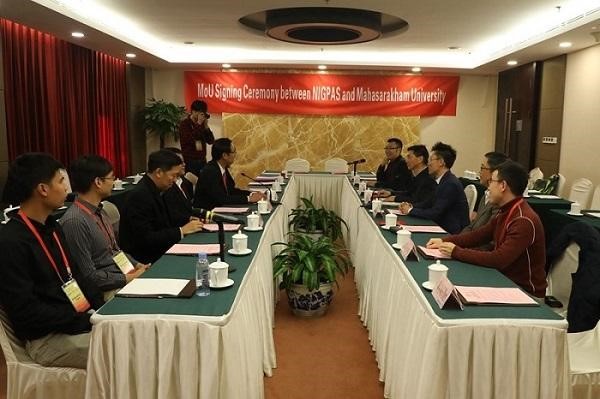 On March 1, 2019, the NIGPAS and the Department of Geosciences, Durham University signed a cooperation memorandum. With signing of the memorandum, the two sides would cooperate to work on the palaeontological and stratigraphical research projects, to build the field and research bases for the graduate students, and to reinforce the bilateral cooperation and communication on the conservation of geological heritages and fossils.